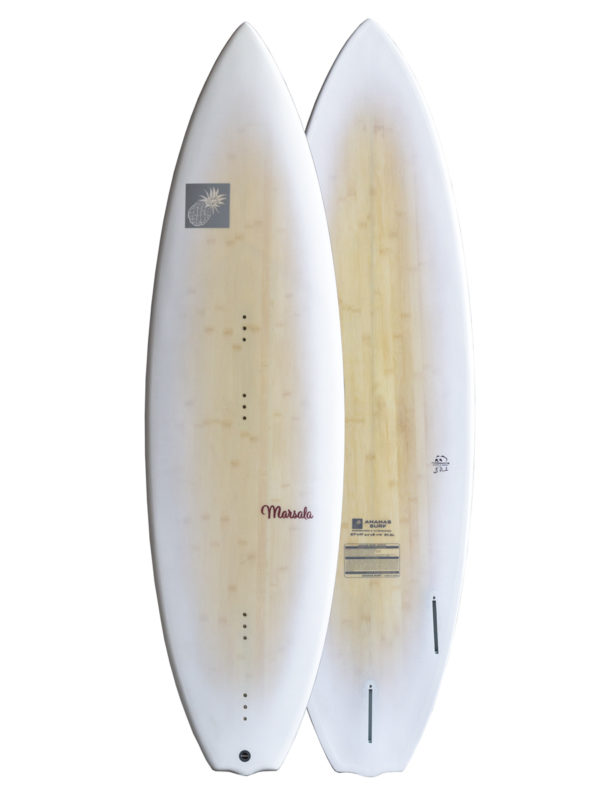 ANANAS MARSALA ALL-ROUND VIP
The Ananas Marsala is the perfect all-round board for the rider looking for a traditionally shaped surfboard with modern technologies and design, that can perform in a wide variety of conditions.The Ananas Marsala was designed and developed by Alexander Pantyukhin, tasted prototypes on Chinese, Vietnam and Mauritius waves, so the board handles a large variety of conditions ranging from small to big waves. With a low rocker, the Ananas Marsala planes early and generates speed. Bottom deck shape helps nesting your feet into the board for an incredible control. This guarantees an early planning with sharp accelerations on and off the surf while helping out dealing with the chop. Even at high speed, the board has plenty of grip and is easy to handle. This makes it the best choice for riders looking to get into the kitesurfing discipline. For more control and powered up turns we prefers the Thruster set up. The bat tail provides multiple pivot points for quick direction changes. This design works great on back side and front side and is a perfect blend of point tail, square and fish tails. Center point of the bat tail adds a more stability on speed and wings give board better the balance on critical turns.
All in all, this range is truly innovative and the boards are specifically designed for wave riding from the bottom to the deck. The Ananas Marsala will give you all the confidence you need for pleasure on Ride your style with this board, straps, or strapless.
TECHNOLOGIES / CONSTRUCTION
HDFR reinforcement on heel area and sandwich construction which improves the board so much thanks to its flexibility and comfort.
High density foam reinforced on finbox area and straps plugs area improove board durability. Tail sharp carbon rails provide outstanding comfort and better maneuverability while keeping the boards lighter.