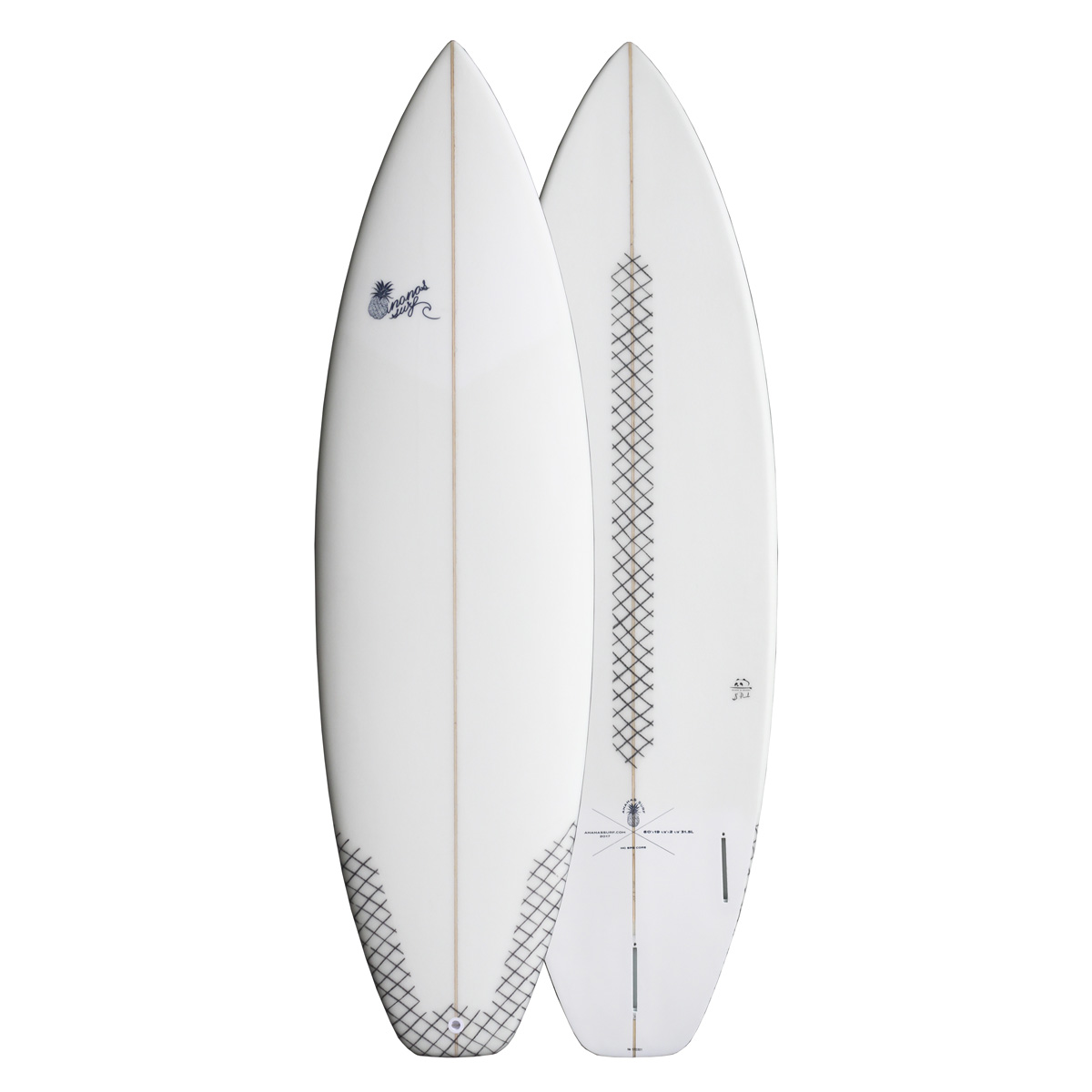 In 2016 ANANAS SURF Net Spy surfboard shape was be modified with in according to our Pro surfers recommendations and was born FAT JAKSON shortboard design.
Somewhat radical in its design, it shorter about 1″ off the nose and tail of a Net Spy model. Its most prominent features being the slightly wider than average nose, a noticeably wide hip and tail block with double vee concave in tail. The full nose provides stability for landing airs. The wide hip in front of the fins, creates a sort of parallel outline for drive. The noticeable hip bump at the fins, angling into the wide rounded square tail, breaks the rail line and gives the surfer a pivot point to crank tight, powerful turns. The wide tail block makes for a stable platform in small waves and at low speeds, and combined with all the other elements allows the board to be ridden pretty short. The rail rocker transitions from a single concave under the front foot, transitioning to flat at the rear fin, and continuing upward into noticeable, double concave, vee out the tail. There is a good amount of double concave through the tail, adding lift and helping the water squirt through and release.
The FAT JAKSON not only benefits for Pro surfers, it really is perfect for most surfers.  Short and stubby with plenty of built in drive, it's easy to catch waves and generate speed on.  It loves small to average surf.
| Length | Width | Thick | Volume |
| --- | --- | --- | --- |
| 5'8″ | 19″ | 2 3/8″ | 27 liter |
| 5'9″ | 19 1/4″ | 2 3/8″ | 27.5 liter |
| 5'10" | 19 3/8″ | 2 1/2″ | 29.6 liter |
| 5'11" | 19 1/2″ | 2 1/2″ | 30.2 liter |
| 6'0″ | 19 7/8″ | 2 3/4″ | 34.4 liter |
| 6'1″ | 19 7/8″ | 2 3/4″ | 35 liter |
| 6'2″ | 20″ | 2 7/8″ | 37.3 liter |
| 6'3″ | 20 1/4″ | 2 7/8″ | 38.3 liter |
| 6'4″ | 20 1/2″ | 2 7/8″ | 39.2 liter |
| 6'6″ | 20 5/8″ | 3″ | 40.5 liter |