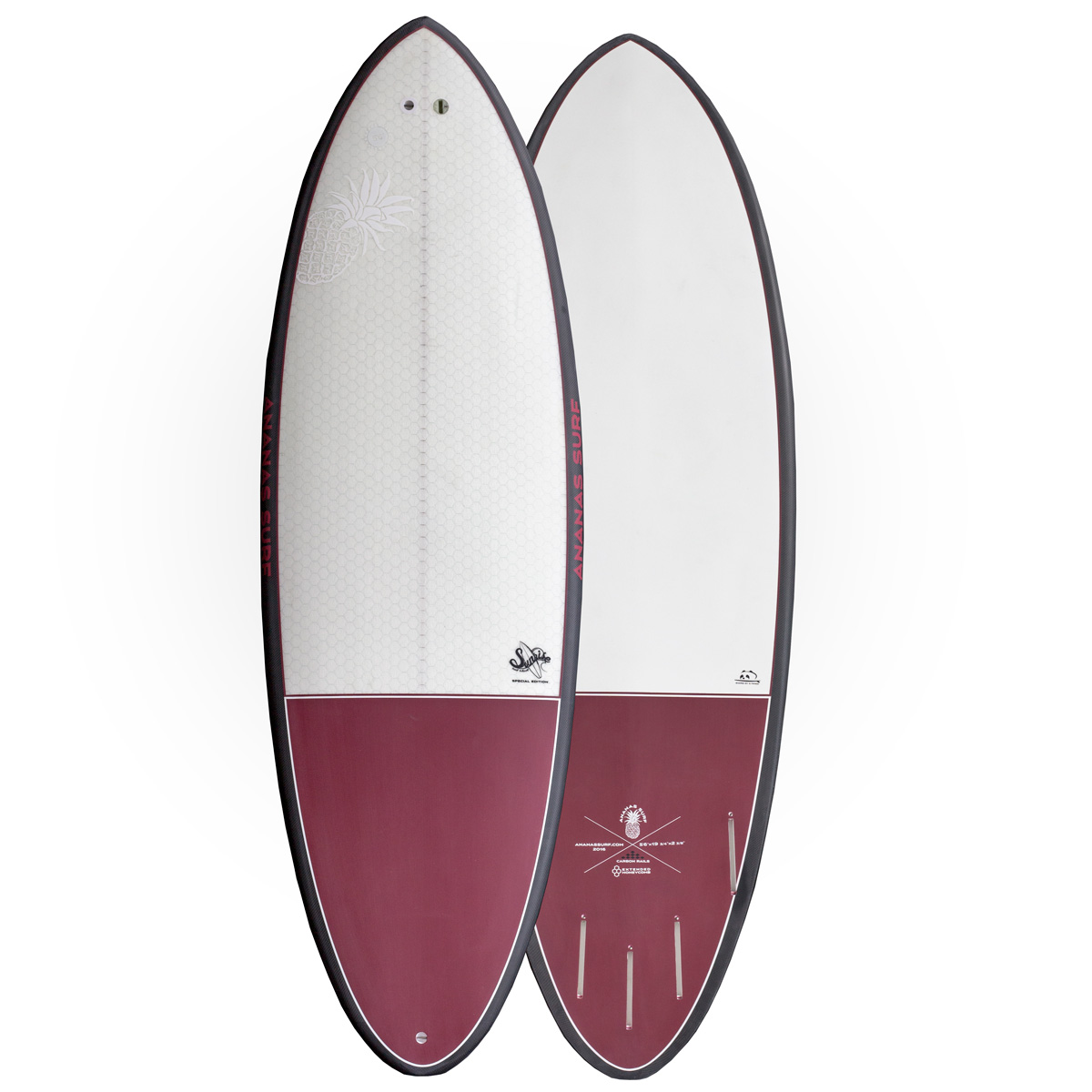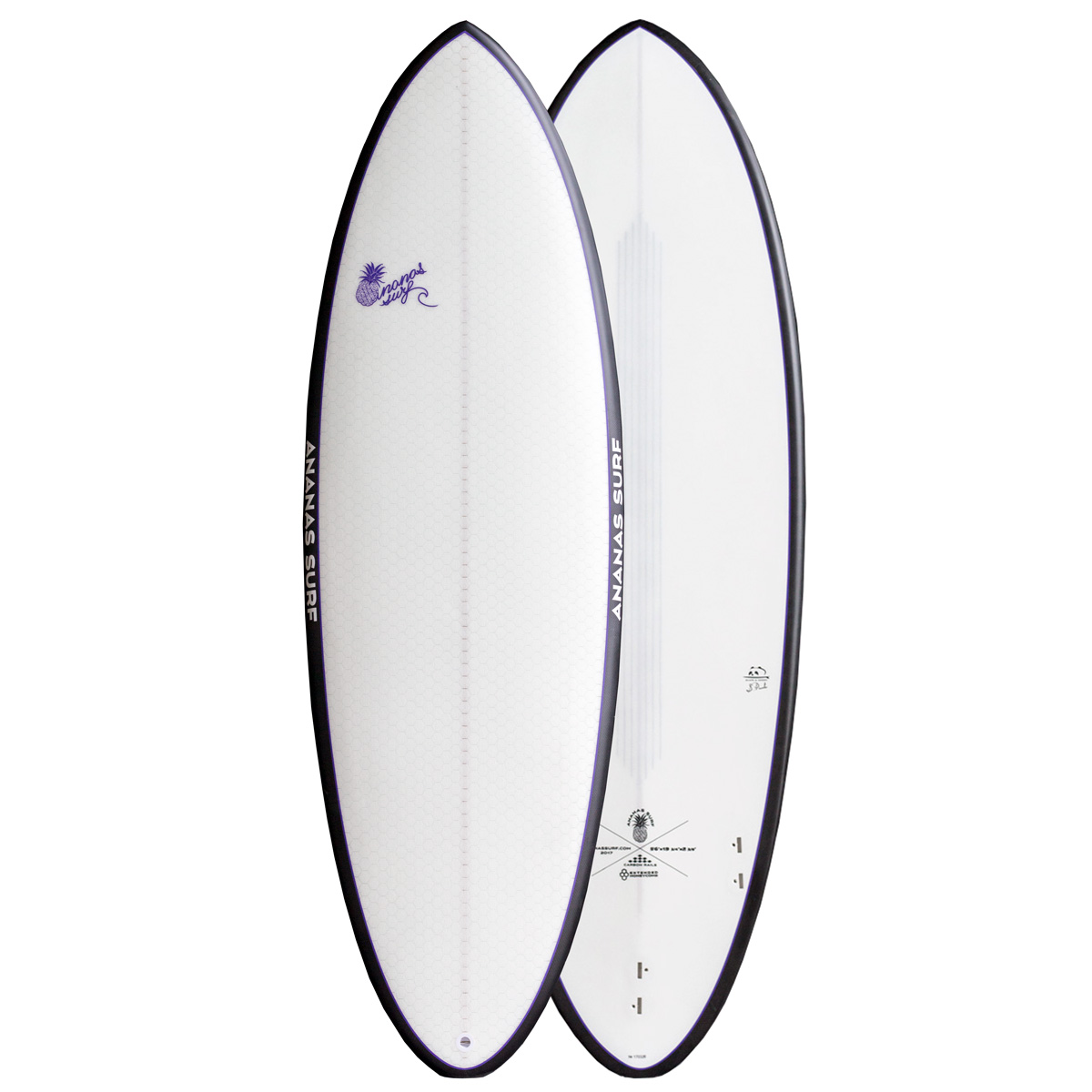 The task was to make the small size funboard with increased volume , lightweight, but strong. Took the popular retro-form added HD PVC foam stringer, put a 1 mm layer of extended honeycomb polyester material, board rails fitted a carbon fiber and five fins setup, painted it in Ananas Surf season colors.
The result is an interesting, playful baby. For example the very compact size 5'6 x 19 ¾ " x 2 3/8" volume 28.5 liters. The rocker is almost flat with medum nose rocker, but concave has three different shapes flowing into each other.
Due to the large volume of lay and paddle on it – a pleasure. Duck dive is more complicated than the classic shortboard of this size, and requires additional effort and skills. Due to the shape size and complex cross sections can take almost any wave as a slow medium and very dynamic and forceful, with a height from 1 to 2.5 meters, but probably this is not the limit. When riding very good grip on the wave wall, especially when using four fins. Speed characteristics make it easy to move around the shoulder of the wave, even the wave fust close, if you move out into the foam, then go around it and atch the outgoing wave is difficult, though.. again, all depends on experience and the particular case. Most impressed maneuverability, especially on steep waves rounded feed and three fin can work wonders, allowing you to easily rotate around the rear legs or to try to divert the tail of the board to spinout. In 2017 we change the construction and add high density PVC shell on top and remove stringer. Finally we have a real short funboard and you can choose size depends you skills! Enjoy!
| Length | Width | Thick | Volume |
| --- | --- | --- | --- |
| 5'0″ | 19″ | 2 1/16″ | 21.8 liter |
| 5'4″ | 19 1/2″ | 2 3/8″ | 27.2 liter |
| 5'5″ | 19 5/8″ | 2 5/16″ | 27.1 liter |
| 5'6″ | 19 5/8″ | 2 1/2″ | 29.8 liter |
| 5'8″ | 19 3/4″ | 2 5/8″ | 31 liter |
| 5'9″ | 20″ | 2 5/8″ | 32.3 liter |
| 5'10" | 20 1/8″ | 2 5/8″ | 33.8 liter |
| 5'11" | 20 1/4″ | 2 11/16″ | 35 liter |
| 6'0″ | 20 3/8″ | 2 3/4″ | 36.5 liter |
| 6'2″ | 20 1/2″ | 2 3/4″ | 38.4 liter |
| 6'4″ | 20 3/4″ | 3″ | 43.2 liter |
| 6'6″ | 21 1/2″ | 3″ | 45.5 liter |
| 6'8″ | 22″ | 3 1/4″ | 51.5 liter |
| 6'10" | 22 1/2″ | 3 1/4″ | 54.0 liter |
| 7'0″ | 23″ | 3 1/2″ | 60.5 liter |